On the coast of the Mediterranean, there is a place where the sun smiles all year round: Gloria Hotels & Resorts. The biggest Golf course in Turkey boasting 45 holes! Gloria Hotels & Resorts is the most exclusive complex on the Turkish Riviera set in the glorious Mediterranean landscape and the climate to match. It's the only complex in Turkey that can offer golf and a curative thalasso center. Stunning beaches, 3 five star luxury hotels, Select Villas and Gloria Family Suites. If you could not imagine a holiday without golf, then Gloria Hotels & Resorts with its two stunning Championship golf courses plus a wonderful 9 hole course awaits you.
Location
Located on the Turkish Riviera, only 40 km from Antalya Airport and Gloria Hotels & Resorts are easily accessible in around 30 minutes by road.
Gloria Golf Resort
Gloria Golf Resort is the most established of the three true beach front hotels. Offering a total life of experience, Gloria Golf Resort has become an established favourite among the Gloria Brand of hotels.
Gloria Verde Resort
You will feel the rejuvenating touch and the invigoration of the Mediterranean on your body in a thalasso atmosphere stolen from heaven.
Gloria Serenity Resort
A new hotel concept with its ultimate quality… A unique Mediterranean nature with unlimited VIP service. With modern architecture, decoration and the details specially designed for you Gloria Serenity Resort is a unique land where you will find every opportunity to feel rejuvenated.
Gloria Golf Club
Gloria Hotels & Resorts provides the pleasure of all season round golf with its miraculous Mediterranean climate. The spectacular green tones of the foliage and thousands of pine trees that surround the courses is an experience to savour. And there's always the chance to see world-famous golf pros as they play these challenging courses designed by Michel Gayon.
Gloria Convention Center
Gloria Golf Resort has a Convention Center comprising of two conference halls, sized 1,056 sqm, and 663 sqm, a 845 sqm foyer, a total of 16 high-capacity meeting halls, where 4 multi-purpose meeting rooms can be separated as required for various activities.
Gloria Hotels & Resorts boast two 18 hole championship courses and a 9 hole course.
Gloria New Golf Course
18 hole, Par 72, 6,239 m
Gloria Old Golf Course
18 hole, Par 72, 6,181 m
Gloria Verde Golf Course
9 hole, Par 36, 2926 m
Gloria Golf Club 45 Holls Golf Courses
Gloria Serenity Resort Gloria Verde Resort Gloria Golf Resort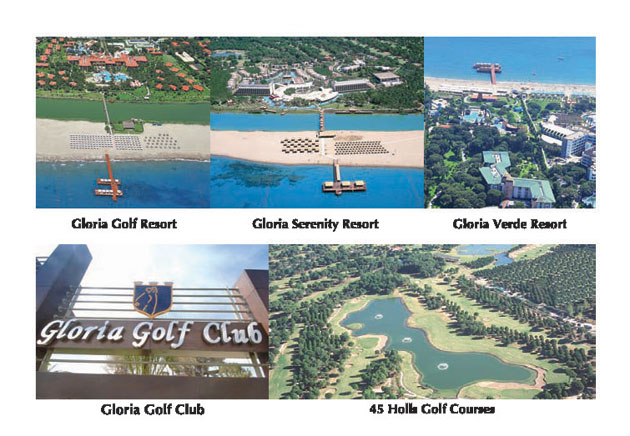 Acısu Mevkii Belek / Antalya
Phone: (+90 242) 710 06 00
Fax: (+90 242) 715 16 36
www.gloria.com.tr