St. Sophia: Located at the Sultanahmet Square, Haghia Sophia is considered as one of the worlds' greatest architectural achievements. The building – more than 1400 years old – was a flagship of its time. It was built over two older churches and inaugurated by Byzantine Emperor Justinian in the year 537. In th 15th century, it was converted to a mosque by the Ottomans.
Topkapi Palace: Located at the tip of the historical peninsula of Istanbul, Topkapi Palace was the administrative center of the Ottoman Empire for about 400 years.
Imperial Palaces: Dolmabahce Palace, Beylerbeyi Palace and the Yildiz Sale Palace are jewels of 19th century architecture.
Blue Mosque: Located at the Sultanahmet Square, opposite to the Haghia Sophia church, the Blue Mosque is famous with its' blue Iznik tileworks. It was built in the 17th Century by the imperial architect Mehmet Aga. The Blue Mosque is one of the most famous religious buildings of the world.
Underground Cistern: The Basilica Cistern is the largest of several hundred ancient cisterns that still lie beneath the city of Istanbul.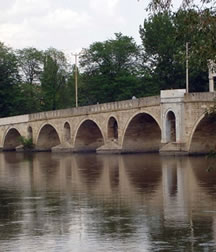 Bosphorus: Whereever you are at the Bosphorus, the view of the other side of the water is the view of another continent, with waterfront houses, gardens, forests, fortresses and palaces.
Grand Bazaar: The Grand Bazaar is one of the largest covered markets in the world with more than 58 streets and 4000 shops. It is well-known for its jewellery, pottery, spice and carpet shops.
Spice Market: The second largest historical bazaar is the Spice Market close to the Golden Horn harbour,specializing in spices and food from different regions of Turkey.
Galata Tower: The 13th century watchtower of the former italian quarter of the city provides a breathtaking 360° view of the city.
Princes' Islands: Located 40km. away from Istanbul, this group of islands can be reached easily with ships from the old town. Motorized vehicles are not allowed on the islands and with beautiful 19 th century houses, gardens forests and the tranquility the islands are unforgettable.
Bursa: Famous with silk production, popular ski center, early Ottoman monuments and just two hours distance from Istanbul, the first capital city of Ottoman Empire is within the reach of a one full day excursion.
Edirne: The city is near the bulgarian border of Turkey, just two hours from Istanbul,.The mosque of Sultan Selim from the 16th century is one of the most magnificent monuments of the entire country.